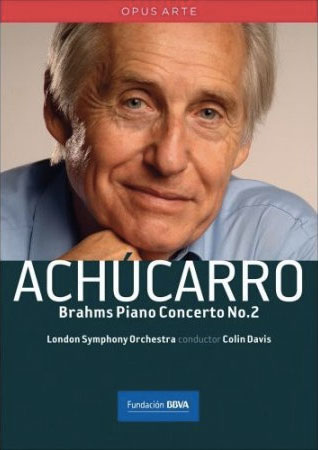 DVD
Brahms Piano Concerto No.2
His triumph in the Royal Liverpool Philharmonic International Competition in 1959 and debut performance with the London Symphony Orchestra in February 1960 were the launch pads for the international career of Joaquín Achúcarro (Bilbao, 1932). Half a century on, the Basque pianist has recorded a DVD with music label Opus Arte and the exclusive support of the BBVA Foundation.
A few years ago the BBVA Foundation sponsored Achúcarro's concert tour with the Euskadi Symphony Orchestra and the publication of a live CD capturing those performances. It now wishes to pay tribute to the pianist by facilitating his re-encounter with the London orchestra that was to play so big a part in his life story, with conductor Sir Colin Davis at the helm. He has chosen for the occasion Brahms' 'Piano Concerto No. 2 in B flat': "one of the greatest and most perfect for this instrument", in the words of Sir Simon Rattle, conductor of the Berlin Philharmonic Orchestra. Rattle is among the figures from the music world featured in the accompanying documentary, in which luminaries like Zubin Mehta and Plácido Domingo discuss the importance of Achúcarro; a consummate artist with a mastery of the classical repertoire that is too often lacking in later generations. This, and his supreme skill with the pedal, are the qualities with which he confronts this difficult work, premiered in 1881 with Brahms himself as soloist. The extras on the DVD include Achúcarro at the Prado Museum, with solo performances of works by some of his most admired composers: Chopin-Scriabin-Albéniz and, once again, Brahms.
Conductor:
Colin Davis
Performances by:
Joaquín Achúcarro (piano)
London Symphony Orchestra
DVD Content:
Johannes Brahms
Piano Concerto No.2 in B flat, Op.83
Allegro non troppo (19.32)
Allegro appasionato (9.29)
Andante (13.10)
Allegretto grazioso (11.01)
Total playing time: 53.12
Extra Features:
Joaquín Achúcarro: 50 years on
A documentary including interviews with Plácido Domingo, Simon Rattle and Zubin Mehta.
Achúcarro at the Prado
Johannes Brahms
Three Intermezzi Op.117
Fréderic Chopin
Twenty-four Preludes Op.28
Alexander Scriabin
Two pieces for the Left Hand Op.9
Isaac Albéniz
Suite Iberia Op.47