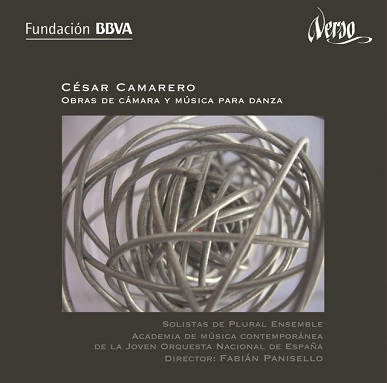 CDContemporary Music Composers of Spain and Latin America
Chamber works and music for dance
Influenced by the creative stamp of Francisco Guerrero and the cosmopolitan viewpoint of his years of apprenticeship in New York, the work of César Camarero (Madrid, 1962) is magnificent testimony to what might be called "pure music" in its broadest and strictest artistic sense. Indescribable, hard to classify into a particular aesthetic or current, the catalogue of works of this young composer already illustrates a wide-ranging, intense career, punctuated by national and international prizes acknowledging one of the most representative musical legacies of the last two decades in Spain.
All five works on this disc were written between 2004 and 2008. Two are solo scores ('Inmersión and Música para inducir al sueño'), two are trios ('Pulsión and Nostalgia de un paisaje futuro'), and the large work closing the program, Instrucciones para dejarse caer al otro lado del vacío (dedicated to Jorge Fernández Guerra and José Luis Turina) is an exceptional dance work born of a collaboration between the composer and the dancer Chevi Muraday, whose premiere at the Alicante Music Festival in September 2006 marked an extraordinary success in the career of the Madrid musician.
The audio disc is complemented by a DVD of the stage performance of this piece by the National Dance Company 2, with scenography and choreography by Chevi Muraday and the Contemporary Music Academy of the Spanish National Youth Orchestra, conducted by Fabián Panisello.
Performances by:
Plural Ensemble
Conductor:
Fabián Panisello
Contents:
CD AUDIO
1. Inmersión (03:01)
2. Pulsión (11:24)
3. Música para inducir al sueño (03:12)
4. Nostalgia de un paisaje futuro (07:51)
5-13. Instrucciones para dejarse caer al otro lado del vacío (33:52)
Total time: (58:40)
DVD:
Instrucciones para dejarse caer al otro lado del vacío (33:52)