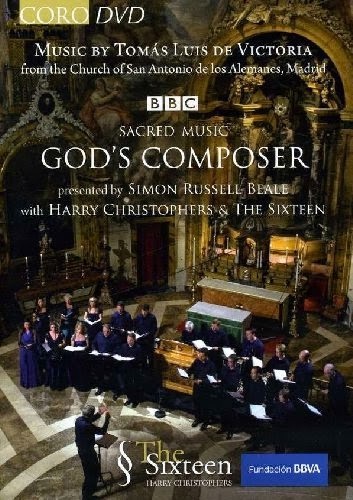 DVD
God's Composer
From Church of San Antonio de los Alemanes, Madrid
The BBVA Foundation and the BBC celebrate the 400th anniversary of the death of the Spanish composer Tomás Luis de Victoria with this DVD. One of the greatest choral composer of the Renaissance, Victoria devoted his life to the church and his music is profoundly spiritual. Interwoven with Victorias music, this documentary follows Simon Russell Beale as he takes us through the life and times of Victoria. Harry Christophers and his award-winning ensemble, The Sixteen, perform Victorias music in the glorious setting of the Church of San Antonio de los Alemanes in Madrid, founded in 1606 by Philip III in Victoria's lifetime.
Presented by:
Simon Russell Beale
Portrayed by:
Harry Christophers
The Sixteen

Contents:
Tomás Luis de Victoria (1548-1611)
Sancta Maria succurre miseris
Salve Regina
Super flumina Babylonis
Tenebrae Responsory for Maundy Thursday no. 6 "Seniores populi"
Vidi speciosam
O quam gloriosum
Lamentation for Holy Saturday – Lectio I
Requiem 1605: Communio
Congratulamini mihi
Requiem 1605: Kyrie
Running time: 60 min aprox.