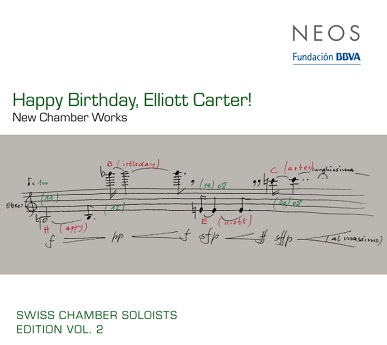 CDFundación BBVA-NEOS Collection
Happy Birthday, Elliot Carter!
New Chamber Works
Born in New York on 11 December 1908, Elliott Carter began to take an interest in avant-garde music while still in high school, where he received support from Charles Ives. He studied with Walter Piston and Gustav Holst at Harvard College and with Nadia Boulanger in Paris. Since then he has lived as a composer and teacher in New York City and Waccabuc (NY). He has won the Pulitzer Prize twice and is the recipient of countless awards. His earliest compositions were in a "neoclassical" vein. Dissatisfied with his own musical language, he moved to the Sonora Desert near Tuscon, Arizona, where he wrote his 'First String Quartet'. This forty-minute work proved to be a turning point in his career, being tighter, more dissonant, and more complex than his earlier music.
His creativity has reached its true culmination only in the past two decades, when he produced countless orchestral works, concertos, small ensemble pieces, and chamber music. In 1999 the nonagenarian composer wrote his first opera, 'What Next?', premiered at the State Opera "Unter den Linden" in Berlin. With increasing age his music has become more limpid, subtle, and humorous, with a fascinating and surprising wealth of forms and an elegance even in its densest passages of counterpoint. These recordings by the Swiss Chamber Soloists bear tangible witness to the brilliant late music of one of the towering composers of the century.
Performances by:
Swiss Chamber Soloists
CD Audio
1. Mosaic (12:02)
2. Figment IV (03:14)
3. Enchanted Preludes (06:18)
4.-11. Tempo e Tempi (15:01)
12. HBHH (02:56)
13.-14. Two Fragments (07:22)
15. Oboe Quartet (15:51)
Total time: 63:28