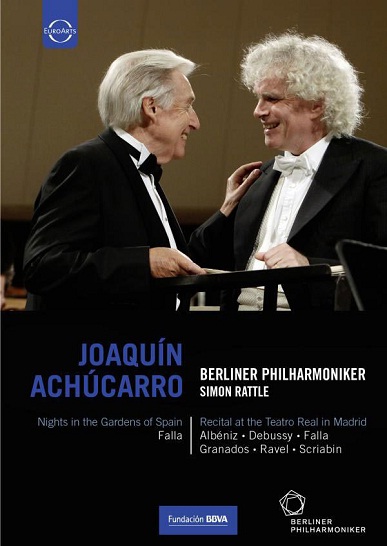 DVD
Nights in the Gardens of Spain / Falla and Friends
Joaquín Achúcarro (Bilbao, 1932) is the holder of numerous awards and distinctions, including Spain's National Music Prize (1992) and Gold Medal of Fine Arts (1996). In the year 2000, he was designated UNESCO "Artist for Peace" at a ceremony in Paris, in honor of his extraordinary artistic achievement.
A tireless performer, his busy concert schedule has taken him to around sixty countries, giving recitals in leading venues and appearing with over 200 orchestras as a solo artist. He has also worked with some 350 conductors of the stature of Abbado, Mehta or Rattle.
Featured on this DVD is the recital Nights in the Gardens of Spain, a journey through the works of Manuel de Falla, recorded with the Berlin Philharmonic in the German capital in September 2010, under the direction of Sir Simon Rattle. One month later, Achúcarro offered a magnificent recital titled Falla & Friends in Madrid's Teatro Real, playing works by Manuel de Falla and contemporary authors such as Claude Debussy, Isaac Albéniz and Maurice Ravel.
This is the second DVD that Achúcarro has recorded at the initiative of the BBVA Foundation. On the previous occasion, it was the London Symphony Orchestra that accompanied the pianist in his rendering of 'Brahms Piano Concerto No. 2 in B flat major'.
Performed by:
Joaquín Achúcarro
Berliner Philharmoniker
Orchestra conducted by:
Sir Simon Rattle
CONTENTS
Nights in the Gardens of Spain, Manuel de Falla
– En el Generalife (11:41)
– Danza lejana (5:07)
– En los jardines de la Sierra de Córdoba (9:29)
Recital in the Teatro Real, Madrid – Falla & Friends
– Navarra, Isaac Albéniz (5:57)
– La Puerta del Vino, Claude Debussy (3:46)
– Quejas o La maja y el ruiseñor, Enrique Granados (6:41)
– Gaspard de la nuit, Maurice Ravel (24:31)
– La soirée dans Grenade, Claude Debussy (5:40)
– Hommage (Pour le tombeau de Claude Debussy), Manuel de Falla (2:59)
– Fantasía baetica, Manuel de Falla (15:57)
– Nocturne, Alexander Scriabin (5:14)
Total playing time (with bonus features): 102´