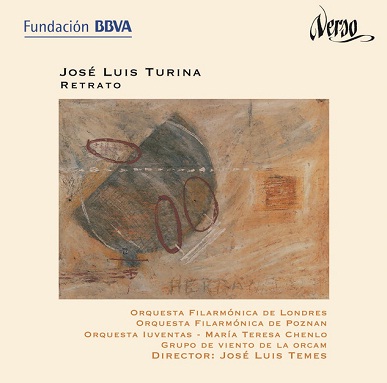 CDContemporary Music Composers of Spain and Latin America
Retrato
The BBVA Foundation presents the collection 'Compositores españoles y latinoamericanos de música actual', an ambitious music publishing project promoted by the Foundation BBVA and released on record label Verso, whose aim is to showcase the most ground-breaking compositional output of Spanish and Latin American authors. The CD inaugurating features the works of José Luis Turina.
Grandson of the great Joaquín Turina, one of the key figures of early twentieth century Spanish musical nationalism, José Luis Turina (Madrid, 1952) has, along with a variety of management tasks, pursued a brilliant musical career making him one of the most outstanding names of the eclectic generation of composers born in this country during the nineteen-fifties.
Performances by:
The London and Poznan philharmonic orchestras, the Iuventas orchestra, the wind section of the Orchestra and Choir of the Madrid Region (ORCAM) and María Teresa Chenlo.
Conducted by:
José Luis Temes
Contents:
CD Audio:
1.   Punto de encuentro (21:01)
2.   Pentimento (11:08)
3.   Crucifixus (14:04)
4.   Octeto de agua (13:20)
5.   Due essercizi (09:11)
6.   L'art d'etre touché par le clavecin (09:24)
Total time: 78:07