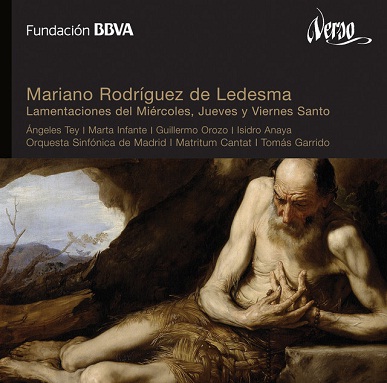 CDContemporary Music Composers of Spain and Latin America
Lamentaciones del Miércoles, Jueves y Viernes Santo
A central figure of early Spanish Romanticism, the biography and most particularly the work of Mariano Rodríguez de Ledesma (1779-1847) remain today little known to musicologists and listeners. With well-grounded training in his native city of Zaragoza, from García Fajer "el Espagnoletto", and with an enviable cultural background, in 1806 he was established as tenor in the Royal Chapel of Carlos IV, beginning a close professional relation with the Bourbon court in Madrid which lasted until his death.
Precisely as part of his functions as Permanent Maestro of the Chapel of the Queen Regent María Cristina of Bourbon, Rodríguez de Ledesma set the Lamentations for Easter Wednesday and Thursday and Good Friday for celebration in the Royal Palace in Madrid at Easter in 1837 and 1843. Sublime works in their orchestral colouring, overpowering in their beauty, astonishing choruses, they seem rather to delight the spirit than invite it to withdraw as is proper to those dates. Tomás Garrido has done a fine job of musicological recovery in this new publication by Verso, as part of its efforts, together with the BBVA Foundation, to promote the diffusion of Spain's less-known musical heritage.
The recording is rounded out by the soloists, Marta Infante at the peak of her powers, the  Matritum Cantat Chorus and the Madrid Symphony Orchestra which, under the direction of Garrido himself, put the seal on an album which is indispensable in any record collection.
Performances by:
Ángeles Tey, soprano
Marta Infante, contralto
Guillermo Orozco, tenor
Isidro Anaya, bass
Matritum Cantat
Javier Blanco, direction
Orquesta Sinfónica de Madrid
Tomás Garrido, direction
Contents:
CD Audio 1:
01. Primera Lamentación del Miércoles Santo RL 11 (1837) (13:16)
02. Segunda Lamentación del Miércoles Santo RL 12 (1837) (11:37)
03. Tercera Lamentación del Miércoles Santo RL 13 (1837) (13:42)
04. Primera Lamentación del Jueves Santo RL 14 (1837) (11:40)
CD Audio 2:
01. Segunda Lamentación del Jueves Santo RL 15 (1837) (11:16)
02. Tercera Lamentación del Jueves Santo RL 16 (1837) (15:42)
03. Primera Lamentación del Viernes Santo RL 17 (1843) (06:32)
04. Segunda Lamentación del Viernes Santo RL 18 (1843) (08:12)
05. Tercera Lamentación del Viernes Santo RL 19 (1843) (09:96)
Total time: 101:42