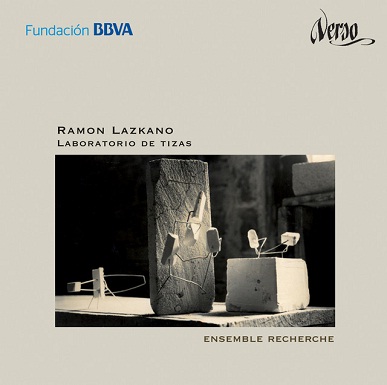 CDContemporary Music Composers of Spain and Latin America
Laboratorio de tizas
Born in San Sebastián in 1968 and trained there with Francisco Escudero and later in Paris with Alain Bancquart and Gérard Grisey, Ramón Lazkano had a meeting in 1988, brief but decisive in his career, with Helmut Lachenmann, not just pivotally influencing his creative trajectory but which would mark his subsequent social and political concerns. Thus the concept then arose in his composition, consolidated in the nineties, of erosion, given splendid form in Laboratorio de tizas, a work of the sculptor Jorge Oteiza whom Lazkano rediscovered during a visit to this maestro's museum in Alzuza, Navarre.
The sonorous and experimental facets of chalk, an extremely fragile, easily worn material, inspired Lazkano to write a collection of pieces begun in 2001 and temporarily concluded in 2011. Sparked by Oteiza's work, they structure the programme on this compact disc, four of these scores from the 'Wintersonnenwende' cycle (Winter Solstice) interspersed on the odd-numbered tracks. The remaining compositions, the two entitled 'Errodi', and 'Egan-2', were written between 2006 and 2009 at a critical moment in the composer's creative development.
In October 2013, 'Laboratorio de tizas' was awarded in France with the Académie Charles Cros 'Coup de Couer 2013' in the contemporary music category.
Performances by:
Ensemble Recherche
Melise Mellinger, violin
Barbara Maurer, viola
Åsa Åkerberg, violoncello
Martin Fahlenbock, flute
Shizuyo Oka, clarinet
Christian Kierstein, percussion
Jean-Pierre Colot, piano
Contents:
CD Audio:
01. Wintersonnenwende-3 (2009) (07:21)
02. Errobi-2 (2009) (06:25)
03. Wintersonnenwende-1 (2005) (02:42)
04. Errobi-1 (2008) (10:04)
05-07. Wintersonnenwende-2 (2007) (12:58)
08. Egan-2 (2007) (08:34)
09-10. Wintersonnenwende-4 (2009) (08:21)
Total time: 56:25