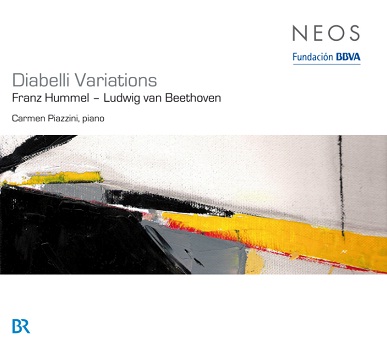 CDFundación BBVA-NEOS Collection
Diabelli Variations
Throughout the history of music, composers have created variations and paraphrases as tributes to their fellow artists. A classical example is Beethoven's treatment of a theme by Diabelli, which Franz Hummel takes up anew in this CD from the BBVA Foundation-NEOS Collection, with performances by the pianist Carmen Piazzini.
A waltz written in 1819 by Austrian composer and publisher Anton Diabelli caught the admiring attention of his friend Ludwig van Beethoven, who sat down to write a set of 33 variations on the theme. These were published in 1823, with the number 120 of his catalogue, and would influence a large part of his later work. Almost two centuries later, Franz Hummel chose to revisit Diabelli's popular music piece and give it the same number of transformations as the Maestro of Bonn. Born in 1939, Franz Hummel was initially known as an accomplished pianist who had won international fame with his concerts and recordings, and had enjoyed the early favor of Johann Strauss.
Today his main interest lies in composition, which he began to practice at the age of seven: a lifetime of creation that has given rise to around 20 operas and concertos of varying scale. Among them, these Veränderungen, written between 2006 and 2007, in which he offers his vision of a harmless little theme that has bequeathed so much to the great music of the last two centuries.
Performances by:
Carmen Piazzini, piano
Contents:
CD Audio
CD 1
Franz Hummel
33 Veränderungen über einen Walzer von Anton Diabelli (57:09)
Variation 14. Molto rubato, passionato, parlando
CD 2
Ludwig van Beethoven
33 Veränderungen über einen Walzer von Anton Diabelli (57:09)
Variation XIV. Molto rubato, passionato, parlando