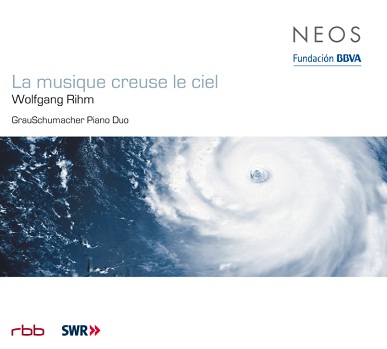 CDFundación BBVA-NEOS Collection
La musique creuse le ciel / Über-Schrift
The Fundación BBVA-NEOS Collection welcomes back the famed piano duo GrauSchumacher with two works by Wolfgang Rihm in which they alternate a solo spot with performing alongside the Berlin-based Deutsches Symphonie.
Born in 1952 in Karlsruhe, where he trained at the local conservatory before going on to work with Stockhausen and Klaus Huber, Wolfgang Rihm is one of the outstanding figures in new music creation. Not only in his home country Germany but throughout Europe, where his musical language, transcending mere structuralism, has influenced a whole generation. From his abundant output, including opera, the GrauSchumacher tandem have chosen two complementary works in terms of both the time they were composed and the format of their presentation. A large-format work drawing on the earlier Third Symphony, 'La musique creuse le ciel', which takes its title from Baudelaire, was written between 1977 and 1979.
The composer was just 25 at the time, but boasted a richness of musical language and an emotional expressiveness that placed him at a distance from serialism. The second piece 'Über-Schrift', eleven years in the making (1992-2003), is a play of loose figures which meet and cross before finally resolving into a unified whole defined primarily by their rhythmic character.
Performances by:
GrauSchumacher Piano Duo
Deutsches Symphonie-Orchester Berlin
Conductor:
Peter Rundel
Contents:
CD Audio:
1. La musique creuse le ciel (34:12)
2. Über-Schrift (26:33)
Total time: 60:47