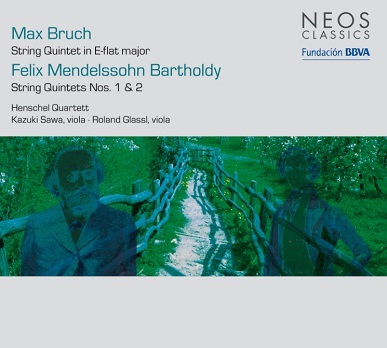 CDFundación BBVA-NEOS Collection
String Quintets
Max Bruch: "String Quintet in E-flat major" / Felix Mendelssohn Bartholdy: "String Quintet No. 1 in A major, op. 18"; "String Quintet No. 2 in B-flat major, op. 87"
Since Mozart decided to beef up the traditional quartet by bringing in a second viola, only a few composers have felt drawn to the format. Hence the interest of this latest addition to the Fundación BBVA-NEOS Collection, for which the Henschel Quartet is joined by guest musicians Kazuki Sawa and Roland Glassl.
Mendelssohn Bartholdy is known for his symphonic instinct. And the adding of this new voice to his two 'Quintets' is an attempt to switch the intimacy of chamber music for the grandiloquence of the symphony. Op. 18, begun in 1826, did not take its final form until 1832, when the composer discarded the original minuet in favor of a moving Intermezzo following the death of a childhood friend. His op. 87, from 1845, is now a widely applauded work, but its author was unhappy with the final movement and refused to have it published. Indeed it did not see the light until four years after his death.
Although his 'Violin Concerto in G minor' tends to eclipse the rest of Max Bruch's work, his catalogue offers a rich selection of everything from operas and choral works to symphonic music. His chamber music, conversely, is confined to the start and end of his career. In this last period, he produced two string quintets: the 'Quintet in E-flat major' in 1918, as reproduced on the current disc, and a second 'in A minor', one year later. Apparently destroyed in the Second World War, these two late works were finally recovered thanks to the copies made by Bruch's daughter-in-law Gertrude, the wife of his son Max Felix.
Performances by:
Henschel Quartet
Kazuki Sawa, viola
Roland Glassl, viola
Contents:
CD Audio:
Max Bruch
String Quintet in E-flat major
1. Andante con moto (03:07)
2. Allegro (03:32)
3. Andante con moto (05:46)
4. Andante con moto – Allegro ma non troppo vivace (06:27)
Felix Mendelssohn Bartholdy
String Quintet No. 1 in A major, op. 18
5. Allegro con moto (11:30)
6. Intermezzo. Andante sostenuto (07:59)
7. Scherzo. Allegro di molto (04:25)
8. Allegro vivace (05:57)
String Quintet No. 2 in B-flat major, op. 87
9. Allegro vivace (09:40)
10. Andante scherzando (04:10)
11. Adagio e lento (07:58)
12. Allegro molto vivace (05:34)
Total time: 76:12