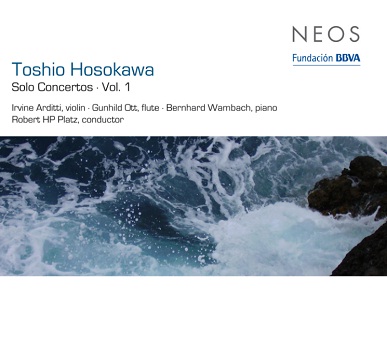 CDFundación BBVA-NEOS Collection
Solo Concertos, vol. 1
The output of Japanese composer Toshio Hosokawa (Hiroshima, 1955) is distinguished by his use of the concept of the sublime, which he borrows from gagaku, the music of the imperial court also widely employed in religious ceremonies. Its influence is especially evident in his pieces for solo instrument like the three brought together on this CD.
This aspiration to "the noble sentiment", as Hosokawa himself describes it, is not a lifelong preoccupation. Indeed he only discovered 'gagaku' when taking composition classes in Berlin with the Korean maestro Isang Yun, whose work also appears in the Fundación BBVA-NEOS Collection.
The universe that Hosokawa has prepared for us in this first volume, focusing on his work for solo instrument and orchestra, is perhaps best exemplified by Gunhild Ott's flute in Per-Sonare, a concerto inspired by the 'shakuhachi' (traditional Japanese bamboo flute). For 'Landscape III', which brings us the artist as narrator of soundscapes, the solo violin Irvine Arditti, creator of the famous quartet that bears his name, is joined by the Deutsches-Symphonie Orchester Berlin. In the closing piece 'Ans Meer' for piano and orchestra, composed on the occasion of the Duisburg Music Prize, he revisits an earlier concerto for orchestra and saxophone in company of the soloist Bernhard Wambach, to whom the work is dedicated.
Performances by:
Irvine Arditti (violin)
Gunhild Ott (flute)
Bernhard Wambach (piano)
Conductor:
Robert HP Platz
Contents:
CD Audio
1. Landscape III (16:59)
2. Flute Concerto "Per-Sonare" (18:51)
3. Ans Meer (14:33)
Total time: 50:35